Taylor Groothuis

Portrays

TBA
Taylor Groothuis is going to portray a (main) character on Gibby.
Tay Taylor is a young and upcoming actress and singer. Not only does she act, but ever since the age of two and half years of age, Taylor has taken the stage by storm and performed her heart out! Her very first performance was on a stage, with her mother, performing "Jingle Bell Rock," Taylor's very first words out of her mouth, before she sang was, "Lets do it!" She even sang "Jesus Loves Me," all by herself, and she wasn't even three years old yet. Taylor has so much energy,is very out going, talkative, and an amazing actress. Source Taylor Goothius fan site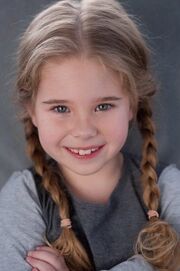 Gallery
Go here for Taylor's gallery.
"Put your shirt back on!"
This article is a stub. You can help the Gibby The Show Wiki by expanding it.
Ad blocker interference detected!
Wikia is a free-to-use site that makes money from advertising. We have a modified experience for viewers using ad blockers

Wikia is not accessible if you've made further modifications. Remove the custom ad blocker rule(s) and the page will load as expected.